REGISTRATION FEE SCHEDULE
The Board of Directors adopted the fee schedule for the 2018 season. Our hope is to make registration a smooth process, and reward those that register early. All players registered after the second tryout, will be placed on a waiting list. Please register early, to ensure team placement. Below is a list of the new fee schedule:
Early Bird Registration
Oct. 3- Dec. 31
$155 for first player, $140 for second and third players; Fourth+ are free
Regular Registration
Jan. 1 - Jan. 19
$165 for first player, $150 for second and third players; Fourth+ are free

Late Registration
Jan. 20 - Jan. 26
$180 for first player, $165 for second and third players; Fourth+ are free

Wait-list Registration
Jan. 27 - Mar. 1
ALL TEAMS FULL - REGISTRATION IS CLOSED
$200 for all players; No sibling discount
*Refunds prior to 1/31/2018 will be subject to a $35 cancellation fee.
Draft level players: No refunds will be given after 1/31/2018.
Non-draft players: Refunds are subject to a $50 cancellation fee after team placement.
CREATE AN ACCOUNT
When you begin the online registration process, you will be asked to create an account with a username and password. Your username must be unique. We suggest that you use your email address as your username, because it is familiar to you.
If you have previously created an account with Arcadia Little League, GREAT NEWS - we have your information. Please use your username and password that you previously used. If you don't remember - please email us at registration@arcadialittleleague.com.
PLAYER DOCUMENTATION REQUIREMENTS
For a child to play in Arcadia Little League, eligibility must first be established by way of residency inside the boundaries, or the location of the school where the child attends is located inside a league's boundaries that is approved by Little League Baseball, Incorporated.
Below are the Residency and School Attendance Eligibility Requirements:
A school issued report card or performance record will no longer be accepted to establish school attendance. Either the school enrollment form or an official/certified school enrollment record dated prior to October 1, 2017 can be used to establish school attendance for the 2018 season.
The residence shall be established and supported by documents containing the full residence which includes parent(s) or guardian(s) name, street address, city, state and zip code information, dated or in force between February 1, 2017 (previous year) and February 1, 2018 (current year), from one or more documents from EACH of the three Groups outlined below:
Group I
1. Driver's License (photo ID of parent(s) or guardian(s) with qualifying residence address
2. School records (home address of player's parents or guardians)
3. Vehicle records (i.e., registration, lease, etc.)
4. Employment records
5. Insurance documents (with residence address)
Group II
1. Welfare/child care records
2. Federal records (i.e., Federal Tax, Social Security, etc.)
3. State records
4. Local (municipal) records
5. Support payment records
6. Homeowner or tenant records
7. Military records
Group III
1. Voter's Registration
2. Utility bills (i.e., - gas, electric, water/sewer, phone, mobile phone, heating, waste disposal)
3. Financial records (loan, credit, investments, etc.)
4. Medical records
5. Internet, cable, or satellite television records
NOTE: Example - Three documents from the same Group (utility bill, cable bill, and bank statement) constitute only ONE document.
UPLOADING DOCUMENTS
Having trouble uploading your documents during the registration process? Please click HERE for a step-by-step guide. Birth certificates will only need to be uploaded once during your player's entire little league career. Residency documents will need to be uploaded every year, with the proper date ranges. For players out of boundaries, they will need to complete a "SCHOOL ENROLLMENT FORM," have it signed by a school administrator, and upload it to your account.
HOW TO DETERMINE YOUR PLAYER'S AGE
The Little League age is the age a player has attained as of a specific date, for the purpose of placing the player in a particular division. The player's Little League age is pre-determined by Little League and programmed into our website. Using the birthdate that you provide at time of registration, the player will be placed in the appropriate division according to that age. Click
HERE
to visit Little League International's website and enter your child's birthdate.
You can also click on our 'AGE CHARTS' tab and view the appropriate baseball and softball age breakdowns.
WHERE OUR BOUNDARIES ARE LOCATED
From Lincoln Drive and 40th Street: south on 40th Street to Thomas Road, east to 68th Street, north to Arizona Canal, northeast along Arizona Canal to Scottsdale Road, north to Camelback Road, west to 68th Street, north to Chaparral Road, west to Invergordon Road, northwest over the ridge of Camelback Mountain to Echo Canyon subdivision, north along the wall on the west side of Echo Canyon subdivision to McDonald Drive, East to Tatum Boulevard, north to Lincoln Drive, west to 40th Street.
SPECIAL NOTE ABOUT OUR BOUNDARIES
Arcadia Little League is part of the Scottsdale District #6 boundaries and is tied specifically to the Arcadia High School boundaries. Please make sure that YOUR RESIDENCE or YOUR SCHOOL is within these boundaries by viewing the boundary map located below before you consider registering. Please note that the boundaries run down the middle of streets. For example, the north side of Thomas Road is in bounds and the south side is not; the east side of 40th Street is in bounds and the west side is not; etc. For a complete map of all Scottsdale Little League District Boundaries go to the
Arizona District #6 website
.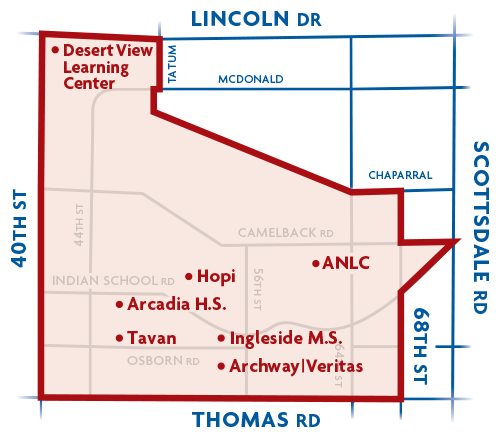 Registration Links
| Name | Link |
| --- | --- |
| Login Link | |
| Coach Login Link | |
| Boundary Map Picture | |