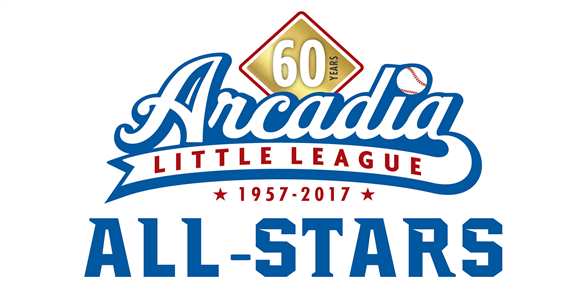 Congratulations to our 2017 Arcadia All-Stars! We are so excited for you to represent Arcadia Little League, and wish the players, parents and coaches the best of luck! Please scroll down to see the members of all six baseball and softball teams.
LITTLE LEAGUE BASEBALL (12u)
Dillon Achen
James Achen III
Michael Brown
Teddy Churchill
Jackson Gentner
Carson Herding
Cade Miller
Peter Mitchell
Drew Neff
Quinn Palmer
Colton Pruitt
Thomas Purcell
Solomon Riccio
Drew Stauffacher

MANAGER: Jim Achen Jr.
COACHES: Bryan Neff and Brian Zurek
LITTLE LEAGUE SOFTBALL (12u)
Racheal Erickson
Maren Fees
Kate Jaramillo
Taite Lockett
Mia Mavoides
Karen Rea
Olivia Richardson
Elsa Steen Koppell
Reagan Stringfellow
Zoie Thomas
Tabitha von Kolen
Avery Wahl
Charlotte Wylie

MANAGER: Randy Wahl
COACHES: Jason Lockett and Jennifer Steen
BASEBALL 10-11
Carter Braden
Ty Coatney
Garon Dreier
Danny Harris
Finn Hartman
Mateo Hernandez
Jack Igo
James McCormack
Lucas Pacheco
Carter Pruitt
Cruise Roberts
Jack Sebald
Max Verstegen

MANAGER: Steve Coatney
COACHES: Dominic Verstegen and Eric Dreier
SOFTBALL 9-10-11
Eliana Barrows
Aaya Bollenbaugh
Kathryn Cross
Chloe Cundiff
Lauren Gough
Isabella Ireland
Hannah Klecka
Katie Musselmann
Victoria Olguin
Jennifer Potter
Elizabeth Preston
Cora Reiter
Sophia Stamatis
MANAGER: David Musselmann
COACHES: Billy Cundiff and Charles Bollenbaugh
BASEBALL 9-10
MANAGER: Shane Rooney
COACHES: Walter Gentner and Kevin Kopp
SOFTBALL 8-9-10
Chloe Andrews
Katie Hendrickson
Mylie Johnson
Te'a Knighton
Tianna Knighton
Olivia Mavoides
Isabella Piazza
Sadie Schwartz
Hailey Smith
Abby Verstegen
Sadie Williams
Laney Wilson
Ella Wolter

MANAGER: Amy Knighton
COACHES: Keely Verstegen and Brian Andrews